It all happened so fast. Just in the past week, Donny and Alberta, Darryl and Marilyn, Wayne, and Melinda have all arrived in Quartzsite. That's most of our camp from last year! With no hard feelings, Jenn and I said "see you down the road" to Arin and Tawny (who were about to move along anyway), and moved back to the old camp, where Yellow Wolf already was. The band is officially back together.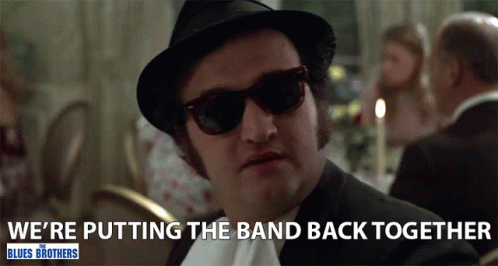 In fact, it's even better than before. Last year, we were all a bunch of strangers who just happened to park in the same area and become friends. This year, we're camping together on purpose. Wayne brought a beautiful canvas tent with a small wood stove and has designated it as community space, free for any of us to use anytime whether he's around or not.
Even Adventuring with Amanda returned for a night. We didn't part on very good terms last year, with a misunderstanding and miscommunication about my/our class at the RTR. But I'm long since over it, and she was as friendly to me as before all that went down, so we're good now. She also brought none other than Matty Van Halen along, but unfortunately, he's feeling sick and didn't feel up to hanging out with us for very long. I don't blame him a bit, especially if it's the same thing that laid me up for a week. It certainly wasn't anything like "I'm a big YouTuber, I'm more important than you" at all. He was very friendly to all of us during the short time he felt well enough to come out of his van. He even recognized Yellow Wolf, who comments on his videos a lot.
Even without Matty, it was a whole lot of fun hanging out with the old crew around the campfire last night. We all just picked up where we left off last season. I've seen some of them since leaving Quartzsite in the spring, but not all. It didn't matter how long it's been — it was just like old times last winter. It felt like I was home with my chosen family.
In other news, the last significant upgrade for the V-Strom has arrived — a taller windshield. Unbeknownst to me when I bought the bike, it came with a MadStad Engineering adjustable windshield bracket, over a $100 value that the dealer didn't know about. It still had the original windshield, which sent the wind directly into my face at full height. I bought a taller Givi windshield, and now the wind goes over the top of my helmet, making for a much quieter ride even at western highway speeds. If I ever start making motovlog videos again (I found my missing GoPro and batteries a couple of weeks ago), I should have excellent helmet audio now that all the wind noise is gone.
Best of all, thanks to the adjustable mounting bracket the bike already had, I can lower the windshield on warm days and catch a breeze if I feel like it. If the Givi windshield doesn't allow enough breeze through, it's only a few screws to swap the shorter original windshield back on for even more open air.
I finally found the cheap 250-watt power inverter I got at Love's when I was trying to troubleshoot my Starlink issues. I made the mistake of buying an inverter that is not pure sine wave, which means I shouldn't run sensitive electronics on it. But I can run chargers and less critical items. So I cut the clamps off the power cord that's supposed to clamp directly to a battery, and wired it directly to the fuse box in the trailer instead. This gives it a dedicated circuit just like in my van. Now the charger and batteries for my power tools can stay in the same place as the tools they go with. I can also charge my heated gloves where all my motorcycle stuff lives.
Best of all, this particular inverter came with two power cords — the one intended to clamp to battery terminals that I modified, and one that plugs into a cigarette lighter outlet. So although I've hardwired the inverter into the trailer, I can also unplug it from that power cord and run it off a lighter anywhere I want if I have the need. I can't think of an occasion when I'd have such a need, but it's good to have the flexibility. In van life, everything should serve at least three distinct purposes.
---
Life is good. The only thing that could make it slightly better is if someone would buy my KLR so that I wouldn't have to worry about selling it anymore. That's not even a complaint. Even my power situation is in great shape. The way my revised solar setup is working, I may not even need to run my generator at all through the shortest days of the year. We'll see how that works, and whether I decide to sell the generator, or keep it as yet another backup power source — or to run a small air conditioner in the summer…